WinPE Nasiboot KTV V2 x64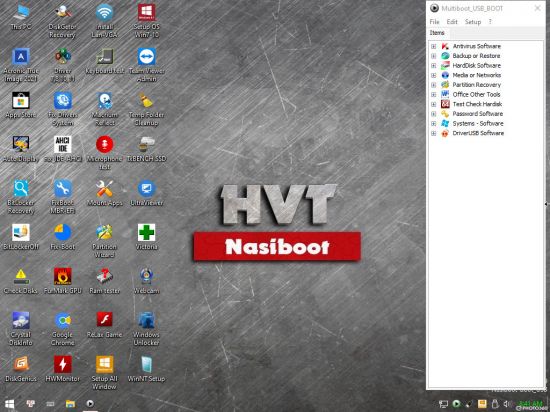 WinPE Nasiboot KTV V2 x64 | Language: English | File Size: 4 GB
Nasiboot KTV V2 is a USB Multiboot Win8PE, Win10PE, Win11PE (x86/x64) kit integrated with over 200 software tools and recovery tools for users to recover computers that support 2 legacy boot standards - UEFI Support Gen 11+
Integrations: Camera, Mtp_Phone Connection, Rndis-Share DT, Bitlocker, Direct X, Net Framwork, Visual C++, Iscsi Server Connection, 50 Machine Support, Gen11, 12, AMD Raid, SMB1_Network Sharing, Sound Microphone, AutoNumlock PC or Laptop etc.
- Support for iSCSI disk storage technology
- Support SMB1 LAN Sharing
- Support printer, fax, camera, camera
- Support Phone Connectivity (MTP) Phone Data Exchange
- Support connect to phone (RNDIS). General access to the telephone network
- Support for Bitlocker and Disk Fix
-Blooth share support
- Test microphone support
- Support for Netframwork 2.0, 3.5, 4.8 using finicky tunneling software products like Ultraivieu, easyBCD, .Vvv.
- Fix Visual C++ version V10. Photostore launch, Office 2010.
- DrexX sound support, play games
� Lenovo toupad support. And Raid Amd
- Rst V19 update for Intel 400 500 600 chip
- Autonumpock for desktops or laptops
- Separate integration of USB 3.1, 3.2 and M2
What's New
Updates: official site does not provide any info about changes in this version
Homepage
DOWNLOAD LINKS :
Code:
https://nitro.download/view/8FEDB46BA5BE003/Nasiboot_KTV_V2.part1.rar
https://nitro.download/view/AD6B93855AEC166/Nasiboot_KTV_V2.part2.rar
https://nitro.download/view/9E69A57F782D70E/Nasiboot_KTV_V2.part3.rar

https://rapidgator.net/file/ecbd059326bb2caba7a29b5eb2bef6ba/Nasiboot_KTV_V2.part1.rar.html
https://rapidgator.net/file/845c6baecd04f6b1382e43ea7be8fdba/Nasiboot_KTV_V2.part2.rar.html
https://rapidgator.net/file/85c83bf6474dd305396dc1da5da75889/Nasiboot_KTV_V2.part3.rar.html