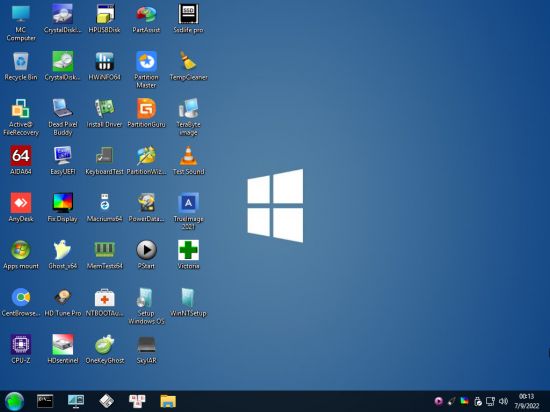 WinPE MCBoot VN Version 9.0.080722 Pro 2022

x64 | Language: English | File Size: 3.8 GB
Windows PE (WinPE) is a small operating system used to install, deploy, and repair Windows desktop editions, Windows Server, and other Windows operating systems.
This is the BOOT MENU for two MBR standards - legacy and UEFI-GPT
- Grub4 boot menu for Dos: Boot to PE Windows, Partition Wizard, Partition Guru, Konboot, Memtest, MHDD, ghost 11.5, HDD regenerator, Active Password Changer. .. and many other useful tools
- Win Pe includes: PE Win 11 pro x64, Win 10 pro x64, Win 10 pro x86, Win 8.1 pro x86, with complete recovery software on Mini Windows: Acronis TrueImage, Norton Ghost, Partition Wizard, Aomei Partition, Section Guru...
- Tools Dos Partition Wizard, Partition Guru, Konboot, Memtest, MHDD, ghost 11.5, hard drive regenerator, Active Password Changer
Support for virus scanning (Kaspersky Rescue, Avira Rescue, Eset, Dr.Web)
- Dos Grub2 tool
- Transfer interface in Dos and windows pe friendly.
* System update and bug fixes
- One-click upgrade supports creating USB-HDD boot easily and conveniently
- Update wifi driver for win pe x64-86, good support for new machines
- Update all lan, Wifi, vega, Graphics, NVIDIA Geforce GT drivers,
- Updated driver for card readers, USB 3.0-3.1 ports for portable set-top boxes
- Update installation Windows 7-8-10 AIO support install win
- Update Hiren't boot 10.0 final
- Win pe supports the following win versions
+ Update Mini Windows 10 32Bit,
+ Update Mini Windows 10 64Bit,
+ Update Mini Windows 11 64Bit,
+ Update Mini Windows 8.1 32Bit_lite
+ Support loading admin with temviewer,
+ Win mini xp: support for machines with a weak configuration
- Dos boot update with win x86 UEFI
- Updated support for machines with NVMe drives for Gen 11 laptops to find and display hard drives in
Windows
pe
- fixed error Acronis true Image 2020 does not allow backup
- Fixed bug when booting win 8.1 pe app icons not showing on screen
- Fixed complete virtual disk error
- fix DrWeb antivirus software error 1746 on win pe x64
* update some programs to the latest version, get more detailed and complete information about the software.
Features between Free and Pro
- The Apps on the new fully updated win
- Nvme intel drive interface gene 7.8,10, 11
- Boo Boo Boo Boo Boo Boo!
- Get Wifi, mouse intel gen 11, 12+
- Support integrated windows installation
- EasyBCD 2.4 -. EasyUEFI Fix computer error
- UEFI boot support application on Dos
- Integrating Micorsoft Net Framwork and C+
- Integrate Test (1) test (1), (b) Test (1)
-.. Integrated Ullman PPI (1) Removal of the patient Mstsc.
- Support phone connection and network sharing will be networked from the phone via the computer
- Support Electric connection thai (MARKING) Divide the number of days
- Support phone connection (R) -2- (2-hydroxyethyl) -2- (2-hydroxyethyl) -2- (2-hydroxyethyl) -2- (2-hydroxyethyl) -2- (2-hydroxyethyl) -2- (2-hydroxyethyl) -2- (2-hydroxyethyl) -2- (2-hydroxyethyl) -2- (2-hydroxyethyl) -2- (2- (2-oxophenyl) - (2- (2- (2- (2- (2- (2- (2- (2- (2- (2- (2- (2- (2- (2- (2- (2- (2- (2- (2- (2- (2- (2- (2- (2- (2- (2- (2- (2- (2- (2- (2- (2- (2- (2- (2- Divide the power of the phone accessory network
- Fast boot speed, running smooth applications
HOMEPAGE
Code:
https://hoanchien.blogspot.com/
DOWNLOAD RAPIDGATOR
DOWNLOAD UPLOADGIG