Windows Server, Version 20H2 Build 19042.1766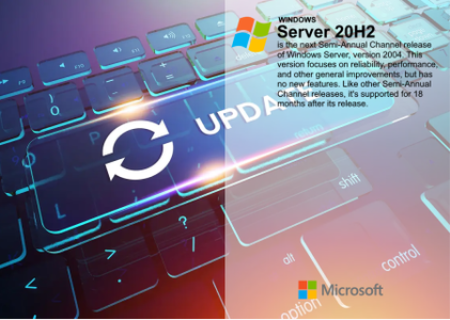 Windows Server, Version 20H2 Build 19042.1766 | 3.6 Gb
Microsoft has released Windows 10 KB5014699 cumulative updates for versions 21H2, version 21H1, version 20H2, and 1909 is a security cumulative update and it is available as part of the June 2022 Patch Tuesday cycle.
On May 19, 2022, we released an out-of-band (OOB) update to address an issue that might cause machine certificate authentication failures on domain controllers. If you haven't installed the May 19, 2022 or later releases, then installing this June 14, 2022 update will also address that issue.
- Addresses security issues for your Windows operating system.
This security update includes improvements that were a part of update KB5014023 (released June 2, 2022) and also addresses the following issues:
- Addresses an elevation of privilege (EOP) vulnerability under CVE-2022-30154 for the Microsoft File Server Shadow Copy Agent Service. To become protected and functional, you must install the June 14, 2022 or later Windows update on both the application server and the file server. The application server runs the Volume Shadow Copy Service (VSS)-aware application that stores data on the remote Server Message Block 3.0 (or higher) shares on a file server. The file server hosts the file shares. If you don't install the update on both machine roles, backup operations carried out by applications, which previously worked, might fail. For such failure scenarios, the Microsoft File Server Shadow Copy Agent Service will log FileShareShadowCopyAgent event 1013 on the file server. For more information, see KB5015527. is a Semi-Annual Channel (SAC) Release. In our most recent Windows Server SAC releases, we've optimized for containers. In this release, we continued improving fundamentals for the core container platform such as performance and reliability. We've also worked with .NET team and PowerShell team and further optimized image size and performance for Server Core containers. We will share more details below. On container networking side, we implemented several improvements to allow for better scalability, robustness, and reliability. One example is additional changes and improvements to Direct Server Return (DSR).
Windows Server, version 20H2 is the next Semi-Annual Channel release of Windows Server, version 2004. This version focuses on reliability, performance, and other general improvements, but has no new features. Like other Semi-Annual Channel releases, it's supported for 18 months after its release.
leading developer of personal-computer software systems and applications. The company also publishes books and muldia titles, offers e-mail services, and sells electronic game systems, computer peripherals (input/output devices), and portable media players. It has sales offices throughout the world.
Windows Server
20H2 SAC (ACore without #GUI) Build 19042.1766.vb_release_svc_prod1.220607-1938 MSDN
x64
www. microsoft.com
english
Windows *
3.6 Gb
DOWNLOAD LINKS :
Code:
https://nitro.download/view/1996416AF6CC3E9/XrQH8NAH_enus_window.part1.rar
https://nitro.download/view/C9838693609B91A/XrQH8NAH_enus_window.part2.rar
https://nitro.download/view/D3DFB8E74584F5E/XrQH8NAH_enus_window.part3.rar
https://nitro.download/view/6E8A0789D30A59D/XrQH8NAH_enus_window.part4.rar

https://rapidgator.net/file/d2f1b9fea63d1f040b9604887a6031f7/XrQH8NAH_enus_window.part1.rar.html
https://rapidgator.net/file/51949675118a00cddc36b25a53f4397e/XrQH8NAH_enus_window.part2.rar.html
https://rapidgator.net/file/a8076f0c1e5ce27a1ba9e3ae7e607063/XrQH8NAH_enus_window.part3.rar.html
https://rapidgator.net/file/9ff2b2444bb440cfa7da4dbd5b2ca767/XrQH8NAH_enus_window.part4.rar.html