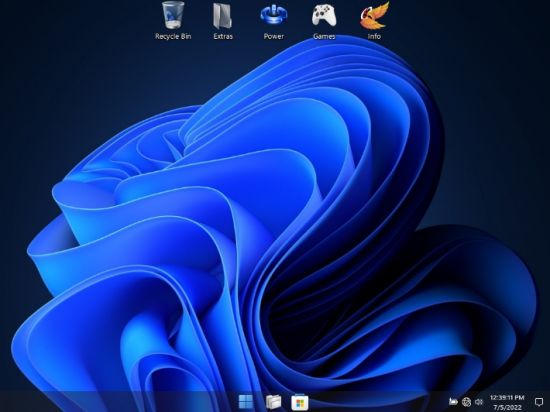 Windows 11 Pro 22H2 Phoenix LiteOS Ultra Lite x64 Build 22621.169



English US | Windows x64 | 1.36 GB
Windows 11 is the latest major release of Microsoft's Windows NT operating system, released in October 2021. It is a free upgrade to its predecessor, Windows 10, available for any Windows 10 devices that meet the new Windows 11 system requirements.
General Info
Windows Edition: 11
Author: FBConan
Edition: Pro
Build: 22621.169
Architecture: x64
Format: ISO
Language: English US
File Size: 1.50 GB
Info
1.5 GB ISO Size!
2.4 GB Installed Size (LZX)!
Additional Language Pack Support!
MS Store, Xbox, UWP Apps Supported!
Extreme Performance for your Apps and Games!
DirectPlay and .NET Framework 3.5 Pre-Installed!
Bypasses TPM, Secure Boot, RAM, CPU, and Storage Checks!
Bypasses Forced MS Account Creation during Setup!
Removed Features Include - Cortana, Edge, BitLocker, WSL, Hyper-V, One Drive, Smart Card, Defender, Windows Mail, Backup and Restore, Diagnostics, Troubleshooting, Maps, Mixed Reality, Some Fonts, Optional Features.
Disabled Features Include - Windows Update Service, Error Reporting, UAC, Ads, Telemetry, Virtual Memory, Hibernation, Power Throttling, Automatic Maintenance and Download Blocking.
Enable Features
DirectPlay
.NET Framework 3.5​
File Explorer
Tabs SMB1
Additions
Custom Taskbar
Custom Start Menu
Custom Desktop Icons
Custom Recycle Bin Icons
Custom Start Menu Button Icons
Custom Performance Settings
Custom Power Settings
Custom Ease of Access Settings
Custom Service Settings
Custom System Settings
Custom Registry
Selective System Transparency
Selective File Compression
Additional Wallpapers
Classic Games
Classic Calculaotr
Virtual Memory Enabler
Web Browser Installers
Tinywall Firewall
Everything Search Engine
WinAeroTweaker
Custom Tools Menu
File Explorer Tabs Enabler / Disabler
How to Change System Language
• Turn on Metered Connection First before Proceeding! (VERY IMPORTANT!)
• You got metered connection turned on? Good! Just Double Checking!
• Go to Start Menu ➞ Tools ➞ and click the 'Windows Update Service On' Shortcut.
• Go to Settings App ➞ Time & Language ➞ Language & Region.
• Click the 'Add a language' Button.
• Choose a language to install from the list, Then Click 'Next'.
Other Tips
• The Print Spooler Service, and Windows Update Service are DISABLED By Default.
• In the Start Menu ➞ Tools Folder, you can easily turn them On, or Off.
• To Install Printer Drivers, and Print, You must turn ON the Print Spooler Service.
• To Use the MS Store, Install Additional Languages, Use Xbox App, and Allow Windows to download drivers, you must turn ON the Windows Update Service.
HOMEPAGE
Code:
https://phoenixliteos.com/
DOWNLOAD RAPIDGATOR
DOWNLOAD UPLOADGIG