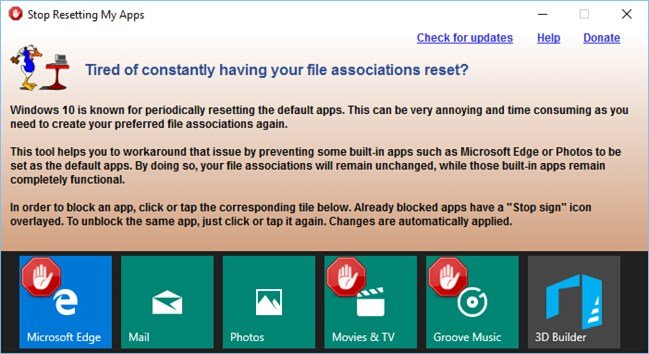 Stop Resetting My Apps 1.9.1.0

File Size : 0.4 Mb
Stop Resetting My Apps can stop Windows 10 from resetting apps which can happen after Windows Update or even a large update to Microsoft Edge, Photos or Groove Music. If you've ever have updated Windows or the default apps, you know the drill. All of a sudden your favorite web browser, email client, graphics viewer or music program is no longer the default app as you wanted. Stop Resetting My Apps does not affect the functionality of those apps. The apps you choose are not listed on the OpenWith menu or the Default apps Windows settings section.
Blocked apps will have a red stop sign icon next to each tile. You can easily check or uncheck with the click of a mouse. During testing, it only allowed me to block Edge on my work computer however everything worked in VMware. Stop Resetting My Apps is a portable application. Just double-click on StopResettingMyApps.exe, make any changes and you can delete it when finished. Either save the program until you're sure you're happy with your settings or download it again later to change anything.
HOMEPAGE
Code:
https://www.carifred.com/
DOWNLOAD RAPIDGATOR
DOWNLOAD UPLOADGIG