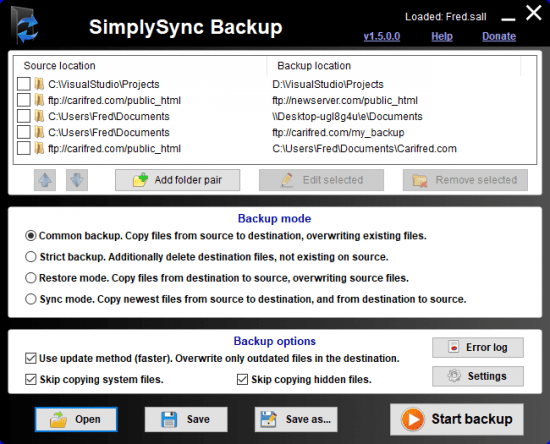 SimplySync Backup 2.2.0.0

File Size : 0.8 Mb

SimplySync Backup is an intuitive backup tool for Windows. It works in both portable and installed mode, and is very fast and easy to use.
SimplySync Backup has really cool features such as
Strict backup. Update backups ensuring they contain the very same files as the source.
Bi-directional sync. Copy new and changed files from source to destination and vice-versa.
FTP and network support. Backup to and from the network, to and from an FTP server.
Direct FTP to FTP. Copy websites directly from one server to the other.
One-click backup. You can create shortcuts for unattended backups.
Automatic updates. (Automatically download and install application updates (requires activation).
Scheduled backups. Backup jobs can be setup to be executed automatically, on a schedule basis (requires activation).
HOMEPAGE
Code:
https://www.carifred.com/
DOWNLOAD RAPIDGATOR
DOWNLOAD UPLOADGIG