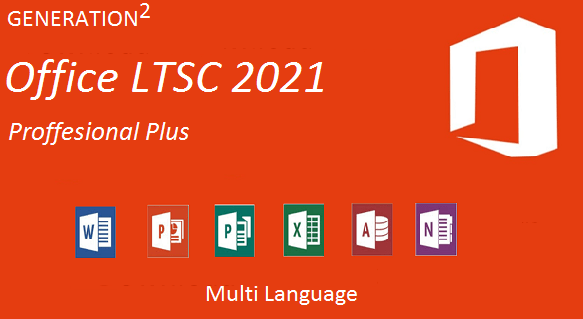 Microsoft Office LTSC 2021 ProPlus Version 2205 Build 15225.20288 x64 he-IL
Windows x64 | Languages: Hebrew | File Size: 8.3 GB

Office 365 ProPlus, the cloud-connected version of Office, delivers the most productive and most secure Office experience-with the lowest total cost of ownership for deployment and management. However, for customers who aren't ready for the cloud, Office 2016-2019 provides new features and updates to the on-premises apps for both users and IT professionals. Like Windows Long Term Servicing Channel (LTSC) releases, Office 2016-2019 provides a set of valuable enhancements for customers who can't be cloud-connected or receive regular updates.

[ RELEASE INFO ]
* File: ProPlus2021x64.he-IL.iso
* Size: 3,09GB
* Format: ISO
* CRC32: 5e434b92
* MD5 : 2bfa6181cff0c2a65b9923f2ae9493e8
* SHA-1: f1adb44d11d230a031fec6c540cd2c59cc2d4a2c
* C2R-R2V_16 & KMS_VL_ALL_AIO-46 attached
* LANGUAGE: HEBREW
System Requirements
• Computer and processor: 1 GHz or greater x86/x64 Processor with SSE2 instruction set
• Memory: 2 GB RAM (64-bit)
• Hard Disk: 3.5 GB free disk space
• Operating System: Windows 7, Windows 8, Windows Server 2008 R2 or newer
• Graphics: Graphics hardware acceleration requires DirectX10 graphics card.
HOMEPAGE
Code:
https://www.microsoft.com/en-us
DOWNLOAD RAPIDGATOR
DOWNLOAD UPLOADGIG