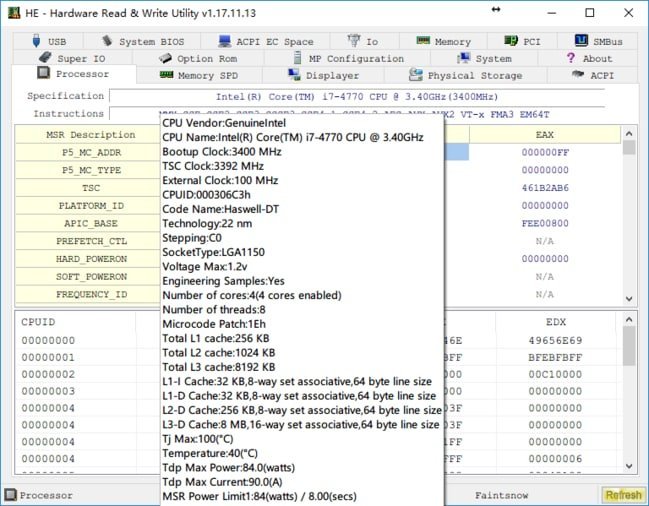 HE - Hardware Read & Write Utility 1.22.7.13
File Size : 4.5 Mb

HE - Hardware Read & Write utility is a powerful utility for hardware engineers, BIOS engineers, driver developers, QA engineers, performance test engineers, diagnostic engineers. etc.
This utility access almost all the computer hardware, including PCI (PCI Express), PCI Index/Data, Memory, Memory Index/Data, I/O Space, I/O Index/Data, Super I/O, DIMM SPD, CPU MSR Registers, S.M.A.R.T monitor, HDD physical sector , ATA Identify Data, ACPI Tables Dump, ACPI AML Code Disassemble, Embedded Controller, USB Information, SMBIOS Structures, PCI Option ROMs and MP Configuration Table. It's a Windows base utility support Windows Win2000 / Win2003 / XP / Vista / Win7 / Win8 / Win8.1 / Win10.
This utility comes with ABSOLUTELY NO WARRANTY, it allows you to modify hardware settings, this may damage your system if something goes wrong. Author will not take any responsibility about that, you are on your own risk
HOMEPAGE
Code:
http://hwrwdrv.phpnet.us/?i=2
DOWNLOAD RAPIDGATOR
DOWNLOAD UPLOADGIG