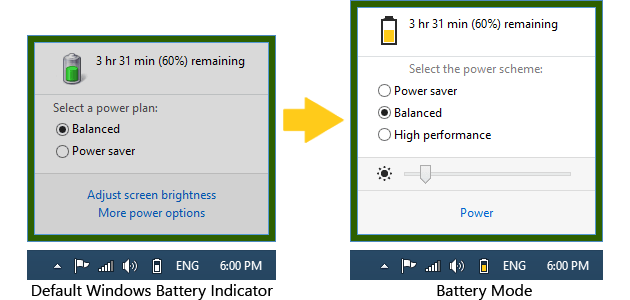 Battery Mode 4.3.2 build 204

File Size : 4.1 Mb
Battery Mode is an advanced power management and battery charge indicator. Power Management Modes allow you to choose what you no longer need at the moment: the duration of the performance, or battery life.
Convenient switching power
• Activate the "Energy Saving" - and your laptop can run for up to two times longer!
• There is a lack of productivity? Retarding system? Not enough FPS in games? Turn on "high performance" to turn off all power-saving features and improve performance.
• Activate the "Balanced" - and the system itself will control the power.
Pleasant lighting control
• There is no need to clamp the cunning combination of keys to adjust the backlight. Just open the Battery Mode and adjust the backlight slider.
• Tired of hopping backlight when you connect the charger or the change of diet? Enable the "Fixed screen brightness" in the "Advanced Settings" - lights will no longer change itself!
Keyboard shortcuts for power users
• Power Management Modes can be switched by means of "hot keys» Alt + Pause.
• Use a utility program NextScheme, to switch modes in your scripts or programs.
• Enter NextScheme * .exe -? to get help.

System requirements
Windows XP / Windows Vista / Windows 7 / Windows 8 / Windows 8.1 / Windows 10
Supported languages
English, French, Brazilian Portuguese, Hungarian, Russian, Ukrainian
HOMEPAGE
Code:
https://en.bmode.tarcode.ru/
DOWNLOAD RAPIDGATOR
DOWNLOAD UPLOADGIG