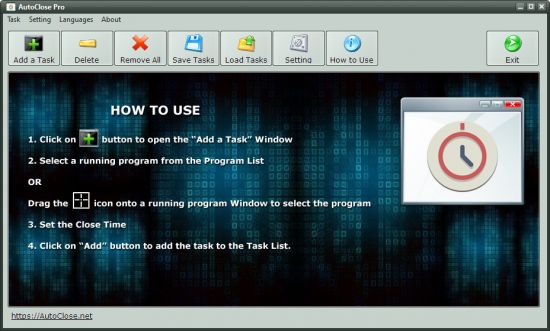 AutoClose Pro 3.4.3 Multilingual

File size: 2.0 MB

AutoClose is a Windows schedule utility allows you to run and close programs at a specific time or after no mouse actions automatically.
With AutoClose, you can leave the computer to automatically turn off all running applications and processes, or start and run specific programs on a scheduled time or after a period of no mouse moving and actions. And when all jobs are finished, the program can shut down itself and the entire computer. This handy tool is designed not only to close programs and automatically shut down your computer, but also offers other options. In fact, after a certain period of time, the program can put the computer into hibernation mode or log off the current user account and lock the computer or restart it. In addition, you can use this tool to just turn off the monitor display. This is a good solution when you are not sure that a running program will complete the entire task reliably at the estimated time. AutoClose also allows you to immediately exit programs and processes running in the background of the operating system.
Easy to Use
In the AutoClose window, just select the program you want to turn off after a certain period of time from the list of running programs and processes, and then select a specific date and time to shut down or set the time period after which the selected application should end.
Task List Saving and Loading
The latest version of AutoClose has been added the saving and loading task list feature. This function enables users to save the task list to a file, and when they need to rerun the task, they could easily load the task file and let the program close or run programs in the task list automatically. AutoClose also has the Load Default Task List feature which could load the tasks in the list when you closed the AutoClose tool.
Features
Close Programs at a Specific Time
Scheduled Programs to Quit after a Period
Close Hidden Processes
Auto Shutdown/Hibernate/Reboot/Log Off
Multiple Tasks / Batch Close
Auto Turn Off Display Monitor
Save & Load the Task List
Run Programs at a Specific Time
Run or Close after No Mouse/Keyboard Actions
Customize Closing or Running Programs in Loop
HOMEPAGE
DOWNLOAD RAPIDGATOR
DOWNLOAD UPLOADGIG