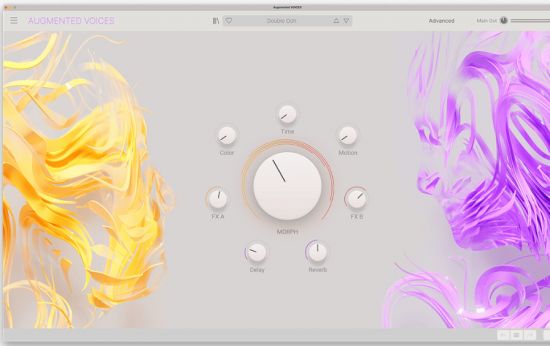 Arturia Augmented VOICES 1.0.1 (x64)

File Size: 1 GB
Augmented VOICES uniquely fuses detailed vocal samples with modern synthesis engines for an intuitive software instrument that equips producers with a comprehensive palette of pristine, intimate, and commanding voice sounds for modern production.
Your own organic-synthetic ensemble.
Augmented VOICES takes you beyond conventional choir sounds and familiar one-shots to discover entirely new vocal dimensions for contemporary music production. Whether you're looking for evocative human timbres for your composition or hybrid whispered textures for pop mixes, embrace the fusion of sampling and synthesis and find your new go-to voice.
Fresh vocal textures
Augmented VOICES hybrid engine elevates the human voice to new heights. This is no ordinary library of static samples or simulated vowel tones - these voices are altered, enhanced, and augmented into sounds that'll reignite your musicality.
Layer your own sound
Create whatever kind of choral or vocal sound you seek with Augmented VOICES' multi-engine architecture. You've got 2 layers to play with, each containing 2 sound sources, allowing you to build a fully personalized combo of sampled and synthesized voices.

Realistic to abstract
From epic choir soundscapes to processed vocalizations, Augmented VOICES combines over 50 voice articulations with 4 synth engines and built-in FX for a huge range of modern and abstract vocal sounds for any style.
Morphing power
Seamlessly move between Augmented VOICES' sound layers and alter multiple sonic elements in unison with the innovative Morph control. Create dramatic and ever-evolving sounds from human to synthetic, light to dark, subtle to explosive.
Transform sound instantly
Augmented VOICES' controls strike the perfect balance between simplicity and functionality; interact with your sound and create expressive movement in real-time with intuitive macro controls, for refined dynamics and variety without ever leaving the main panel.
Deeper customization
Augmented VOICES is designed as your go-to instrument for immediately inspiring voice sounds - but its advanced panel lets you deep dive when you need to. Massive modulation, arpeggiation, and engine customization awaits
HOMEPAGE
DOWNLOAD RAPIDGATOR
DOWNLOAD UPLOADGIG