Adobe Photoshop Lightroom Classic 11.4.1.1 RePack KpoJIuK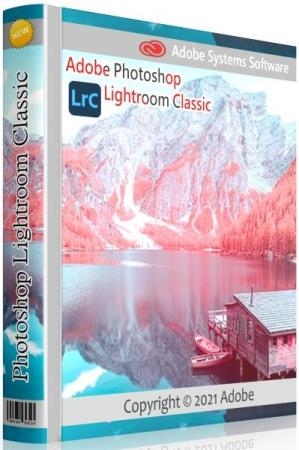 Adobe Photoshop Lightroom Classic 11.4.1.1 RePack KpoJIuK | x64 | File size: 968.46 MB
Lightroom combines photos into "collections" - virtual collections of files that can be quickly searched. It stores information about keywords, previews and metadata not in each graphic file, but in a centralized database (SQLite engine). Therefore, you can also contact the database about the photographs that are now in the archive on DVD. The size of the program is significantly smaller than that of Bridge, it starts faster and takes up less RAM. In general, Lightroom is designed exclusively for photographers who are interested in processing and cataloging photos, and not integrating everything and everything. Another feature of the Photoshop Lightroom package is the division of the process of working with images into separate stages. Each of them has its own functional module with a corresponding set of tools and settings palettes.
Additional Information:
The functionality of the Lightroom package includes not only a RAW converter and image processing tools, but also a powerful photo cataloging system, as well as tools for creating slideshows and web pages. Like many modern RAW converters, Lightroom uses the principle of non-destructive editing. This means that information about all operations and settings performed by the user is recorded in a service file, while the original image is saved unchanged. This approach allows not only to minimize the probability of irretrievable loss of the originals of the processed images, but also makes it possible to create and print many different versions of the same image without the need to save the corresponding number of full-fledged graphic files, quickly eating up free space on your hard drive. Upon completion of work on the image, the user can save its processed version as a separate graphic file.
Build Information
1. Two-click installation
2. The Creative Cloud application does not litter in the system - the necessary minimum remains of it
3. All localizations are included, they can be changed in the program settings
4. The original installer is used, problems with other products are excluded
Command line options :
-S or -S1 - hide the window with the progress of unpacking temporary files
-S2 - show a window with the progress of unpacking temporary files
-S or -S1 or -S2 - required parameter
/XPATH="PATH" - specify the installation location. Default: C:\Program Files\Adobe\
Please note that due to the peculiarities of the official installer, "Adobe Lightroom Classic" will be added to the selected path, so in most cases it is worth choosing C:\Program Files\Adobe
/XVCR - install Visual C++ Redistributable Package (required for the program to work)
Example: INSTALL.EXE -S /XPATH="C:\Program Files\Adobe" /XVCR
System requirements:
Processor: Intel or AMD processor, 2 GHz or faster, supporting 64-bit operating systems.
Operating system: Windows 10 (1903 64-bit) or later.
RAM: 8GB-16GB or more
Hard disk space: 2 GB free hard disk space; additional free space is required for installation and synchronization
Resolution: 1024x768 monitor resolution 1920x1080 or higher recommended
Video Card: DirectX 12 GPU 2 GB VRAM DirectX 12 GPU 4 GB VRAM recommended for 4K displays and above
Internet: Internet connection and registration required for software activation, confirmation of subscriptions, and access to web services�
Platform: Windows� 10 (64-bit only)
Interface language: Multilanguage / Russian / English
Cure: built into the installer | pre-activated
DOWNLOAD LINKS :
Code:
https://nitro.download/view/9B240580BCE5A6A/Adobe.Photoshop.Lightroom.Classic.v11.4.1.1.exe

https://rapidgator.net/file/bb1a6675a6034274c1299394bfd90fb3/Adobe.Photoshop.Lightroom.Classic.v11.4.1.1.exe.html